WhatsApp Pink is a new Android-based virus that has started making rounds on the Internet. The App is served through links shared in WhatsApp groups and chats, in most cases, it's portrayed as a beautiful version of WhatsApp with a pink texture to it, but once installed, complete control over your smartphone is lost.
In the past year, WhatsApp has worked on many measures to make its platform secure from such attacks with the most recent being a bug in its ID verification system that lets an attacker remotely deactivate your account. But with WhatsApp Mods, no regulations have been set since Android is an open-source operating system which makes it hard to block any open-source fork.
Popularly, GBWhatsApp, TMWhatsApp, YOWhatsApp rank as genuine Mods a user can securely install on a Smartphone, but with the new WhatsApp Pink application, an attacker takes complete control of your smartphone in pretense for offering you a beautiful WhatsApp mod with a pink texture.
How WhatsApp Pink Spreads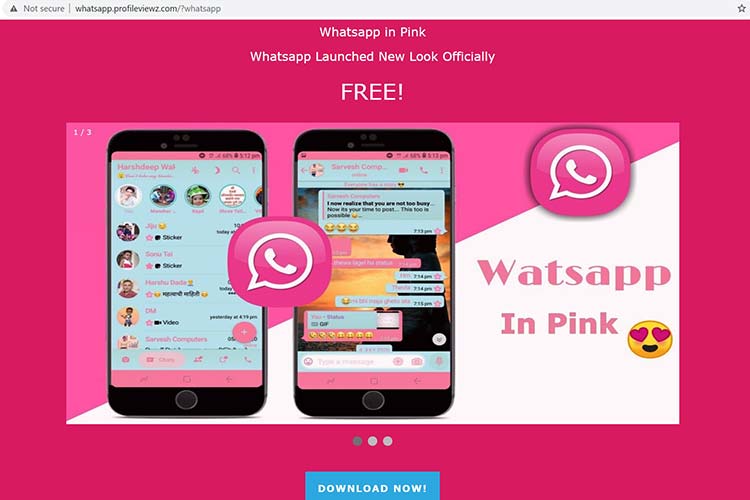 Apparently, WhatsApp links found in groups and chats are open avenues for viruses, malware, and trojan horses. In most cases, links are spread with freebie clauses like "Click here to Get 50GB of Free Airtel Data", once a user clicks on such a link, the attacker utilizes this action to gain control of the user's device.
Now, with WhatsApp Pink, the malicious link attracts users into downloading an Apk file which requires the user to install inorder to start using the pink version of WhatsApp. But once the Application is installed, the attacker (developer of the app) gains immediate control of your Smartphone as soon as it is launched.
The app claims to be the 'new look' of WhatsApp making it attractive for a click, and its virus components were discovered by an Indian-based researcher Rajshekar Rajaharia. Rajaharia shared images of the application through a Tweet with a clear warning to users from falling prey.
As per his trial, WhatsApp Pink disappears from your applications list once installed and registered with any of your active phone numbers. By this standard, it gets to act like an inbuilt system application that runs in the background without your knowledge. However, the good news is that you can uninstall WhatsApp Pink in case you have already installed it on your device.
Uninstall WhatsApp Pink if already Installed on your Device
If you accidentally installed WhatsApp Pink on your smartphone, the good news is that you can uninstall the application as fast as time allows. For starters, you can block any required permissions (depending on your Android version) once requested by the App.
Thereafter, you can head to Settings -> Apps and uninstall WhatsApp Pink from the list of applications. But if the App changes its display name, simply locate any unfamiliar Application from the list and install it from your Smartphone to stay safe from any potential hacks and malware that may be spread to your device.