Telegram is a fast-rising Instant Messaging platform that has grown in popularity with over 1 billion monthly users. Unlike other IM apps like WhatsApp, Signal, Imo, and many others, Telegram has a suite of features you can use at any point in time, and currently, you can auto-delete Telegram messages by simply setting a timer for the sent out chats.
Similar to Whatsapp which allows you to send disappearing messages, the auto-delete Telegram messages feature allows you to limit the time your sent message stays visible to the recipient. Previously, you could only auto-delete Telegram messages from secret chats, but with a new Android update, it ships with other features including home screen widgets, broadcast groups, etc.
In the presence of a self-destructing timer which ranks as another messages deletion feature, the new auto-delete feature starts when you send out a message and not when a recipient reads the message. So, the two features are different in function with the self-destructing clearing read messages, and auto-delete starting once a message is sent. Nonetheless, here is how you can auto-delete Telegram messages.
How you Auto-Delete Telegram Messages on Android
Step 1: From your applications list, open the Telegram App
Step 2: Once open, on your main chats dashboard, open or start a chat with any contact
Step 3: Then, locate and tap the 3 dots option in the top-right corner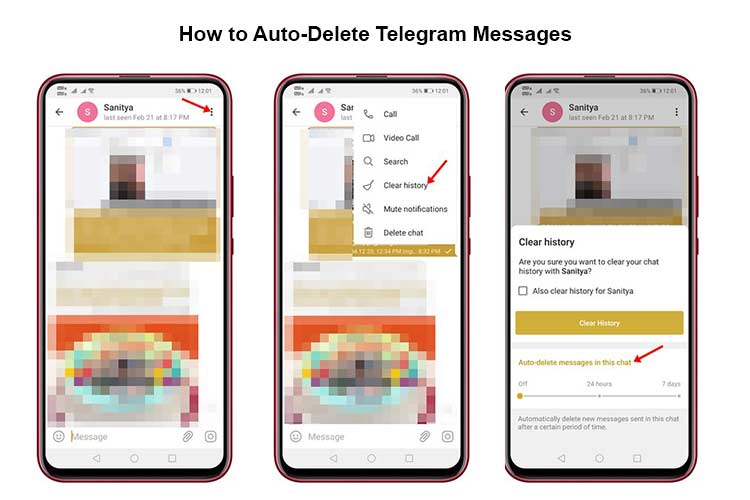 Step 4: From the drop down menu, select clear history
Step 5: Then, on the clear history pop-up, locate the Auto Delete Messages in this chat option
Step 6: Use the option scroller to choose your preferred duration to auto-delete messages, then click Enable Auto-Delete
Step 7: Once enabled, all new messages will automatically be deleted after the set time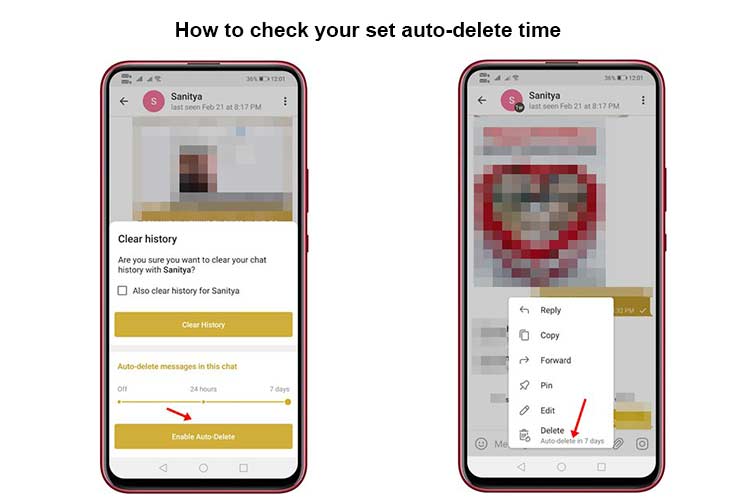 DONE: To see the timer on set messages, long press on a Telegram message and see below the Delete option