Infinix S4 is one of the latest Infinix mobility entries of 2019. Even when foldable releases are still teasing chammy spikes to the mid-range camp, Infinix, Xiaomi, TECNO, and Itel have proved to be the top contenders for the top tier chase with elegant releases. And now, the Infinix Mobile S3 successor that was unveiled earlier last month seems to be an amazing smartphone to consider against some of the best 2019 high-end releases.
With a waterdrop display notch shipped to the Infinix S4, you can easily mistake the Smartphone for a top tier release with a full display screen to its norm. This is due to the fact that we received an Infinix S4 review unit and here is a sip of our unboxing spree, but first, here is a scent of the S4 specifications sheet.
Infinix S4 Specifications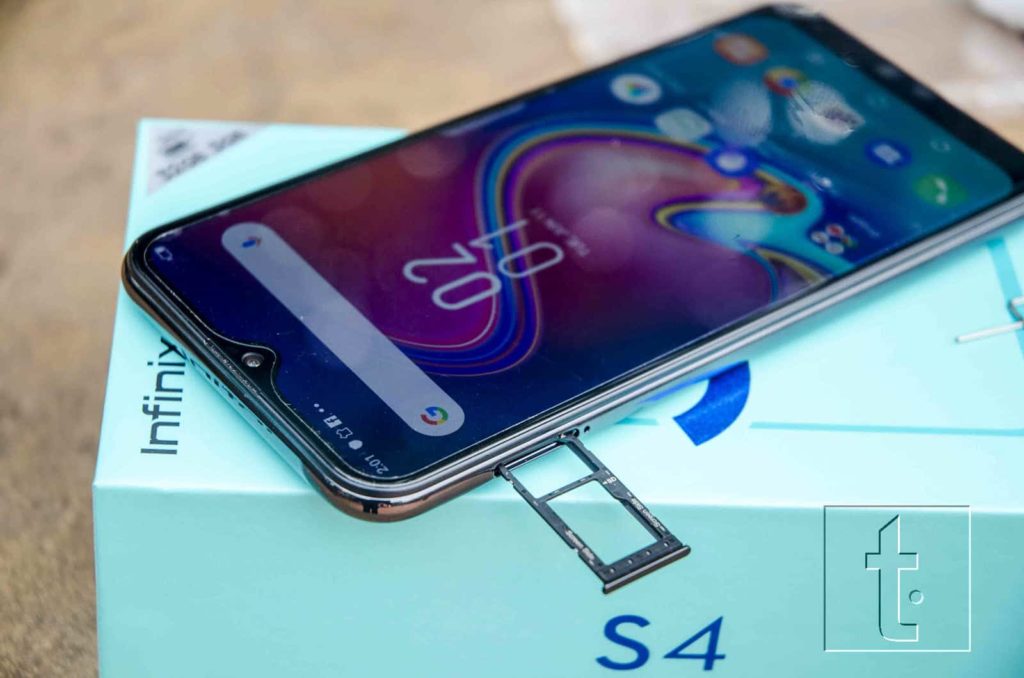 Launched: May 2019
Network: 4G/3G/2G
Connectivity: GPS/WiFi/Bluetooth
Processor: MT6762 2.0 GHz
Operating System: Android 9 Pie
Display: 6.2 Inch + WaterDrop Notch
Front Camera: 32MP
Rear Camera: 13MP + 8MP + 2MP (Tripple Camera) with Quad flashlight
Internal Storage: 32GB
RAM: 3GB
Battery Capacity: 4000mAh
Screen Dimensions: 156*75*7.9mm
Sensors: G-Sensor, E-Compass, L-sensor, Proximity Sensor, Fingerprint, Gyroscope
Colors: Space Gray, Nebula Blue, Purple
Price: UGX 585,000 ( USD 158)
Unboxing the Infinix S4
Just like any other Smartphone we've managed to rest on our review desk, with the TECNO Spark 3 and Itel P33 turning out to be our latest inline. The Infinix S4 box type is no way different from any other release in the same corner. But then, what the blue Infinix S4 box holds is worth to term the Smartphone an elegant release.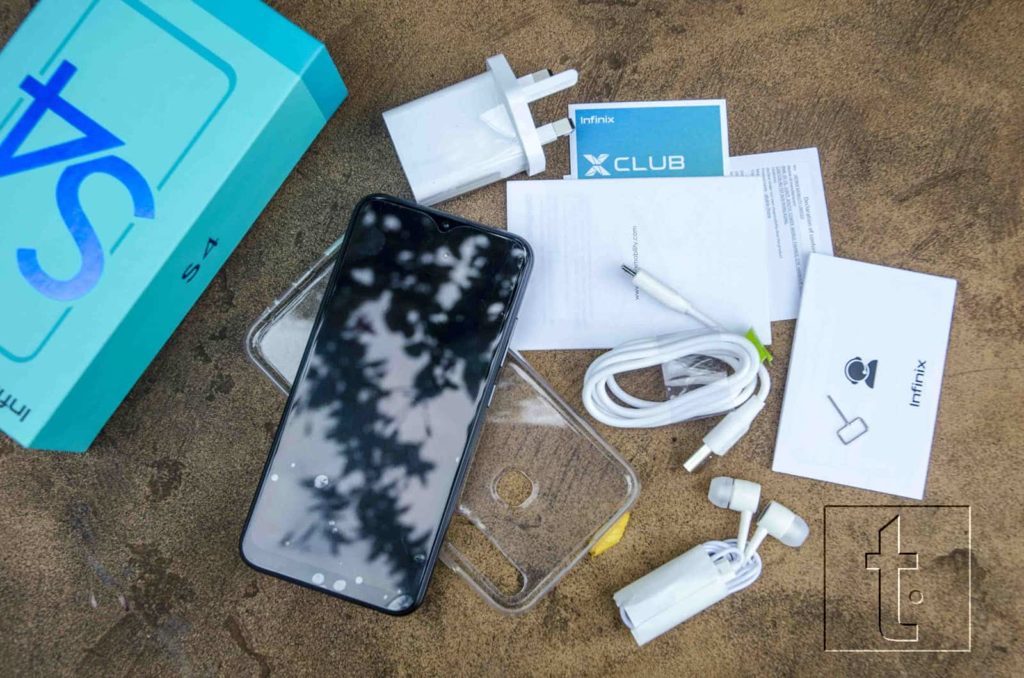 To the box contents, the Infinix S4 is accompanied by a pile of well-sealed user manuals, a charger and a pair of headsets. However, the box poses a minimal size and a proper touch to detail since all components have separate cabins underneath the S4 unit. Nonetheless, here is a detailed list of all the box components.
Charging Brick
USB Cable
Headsets
A Phone Cover
Screen protector
Simcard Tray Pin
User Manuals
First Impressions
Well, selfie centric smartphones are always cool devices to hold and the Infinix S4 seems to be that perfect companion you can easily reckon with at a low budget. The Smartphone poses a waterdrop display notch different from the basic top notch__that first crossed over to the Infinix S3X. Furthermore, the notch is powered on a 6.0Inch screen for a full display real estate.
Away from the first in its lane notch display, the S4 has a triple rear camera threat pimped with a quad LED flash, and a front lone version inking the detail capacity that can be produced in pictures captured by the smartphone. However much, the rear camera is a full detail teaser, the front camera misses a low light spicer (soft flash) making selfie shots limited to only well-lit conditions.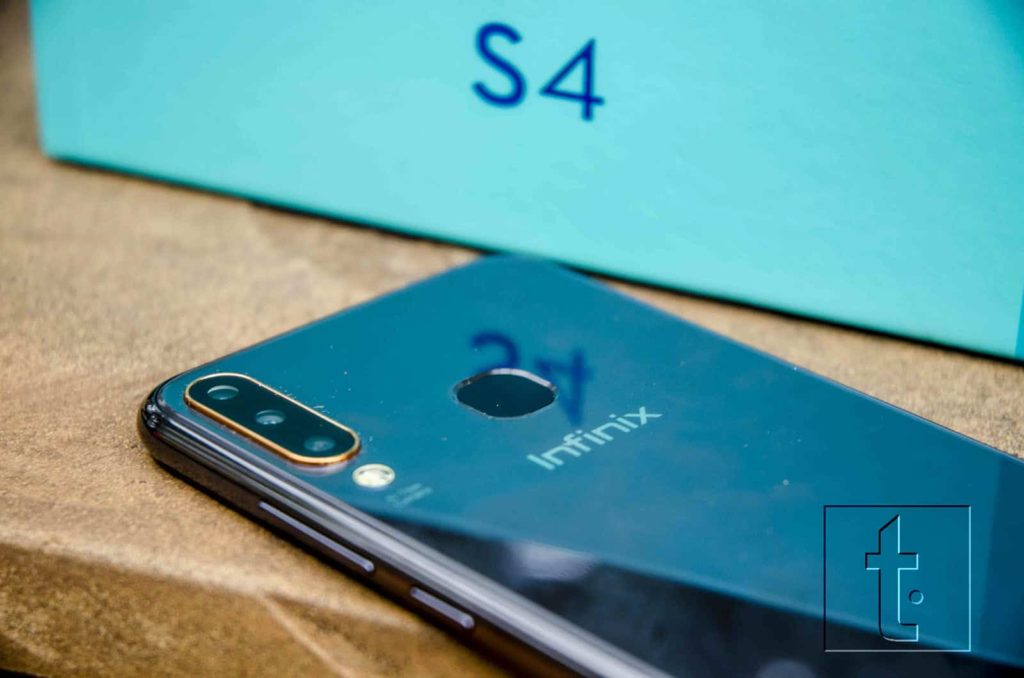 By first sight, the 2.5D Infinix S4 glass body makes it a beautiful phone with the rear panel tapping a reflective display. More so, the Smartphone poses well-curved borders with the same shiny feel making a phone cover limited to protecting it from accidental falls.
Basically, the S4 design riding on an improved full display screen makes it close to a high-end release riding in the mid-range tier. Interestingly, Infinix Mobile didn't end on the attractive design, but also picked a leaf from the side slots trend of having both the Sim cards and Micro SD card on a single removable tray.
In return, it means the inbuilt battery can never be tampered with nor even having thoughts of opening the device's back plate.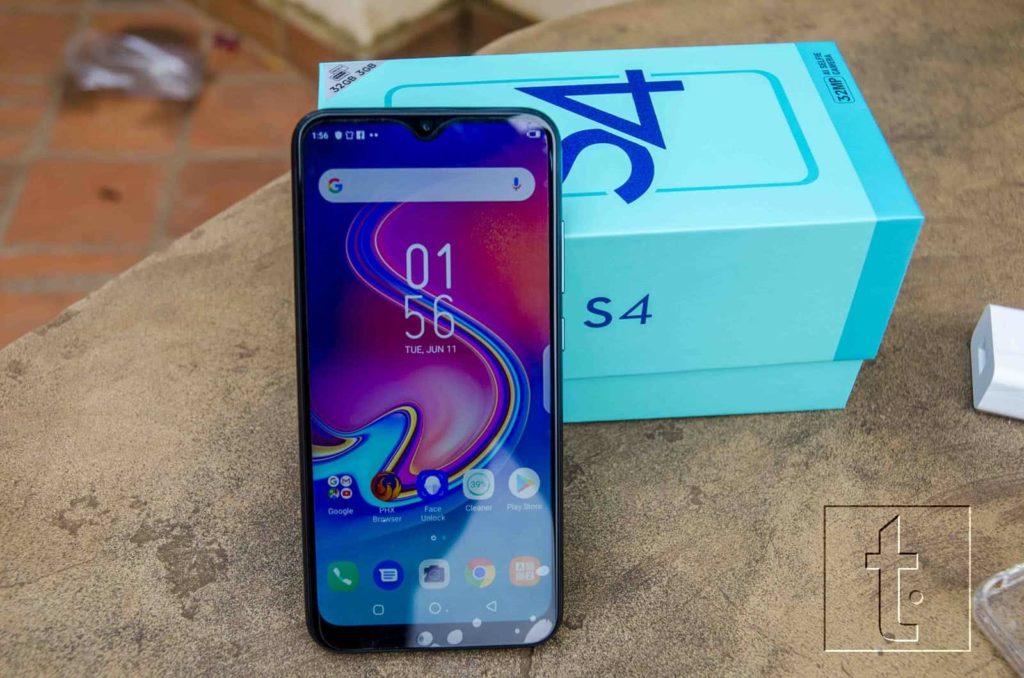 All in all, the Infinix S4 deserves a flagship status though we don't know what the future holds. But depending on the amazing capabilities pimped to the Smartphone, we shall explore more of what the S4 has to offer and a test of the triple camera force bringing to life a well-rounded Fingerprint sensor in comparison to its S3 predecessor.