Lyca Mobile launched as a disruptive mobile network operator to offer customers attractive data and voice packages better than any other existing telco in Uganda. A year later, the telco has attracted thousands of users to its network and currently working on expanding to more regions across the country by the close of 2021.
With expansion plans in sight, attractive data bundles, free International voice minutes for customers, the main question would be, what Lyca Mobile Uganda coverage areas have the best network speeds and full network coverage?
Well, the telco covers Kampala as its base zone just like any other mobile network operator in Uganda. Then, surrounding cities like Mukono, Jinja, Mbarara, rank as its second priority areas. But with a new National operator license recently granted to it by UCC, the telco has added most districts to its priority coverage areas with 4G access.
Now, based on your location all Lyca Mobile Uganda coverage areas offer the same Internet speeds, and a connection may act poor if you switch to 2G which is the second supported band alongside 4G at hotspots in Kampala, Jinja, Mbarara, Masaka, among other areas as listed on the coverage list.
Lyca Mobile Uganda Coverage Areas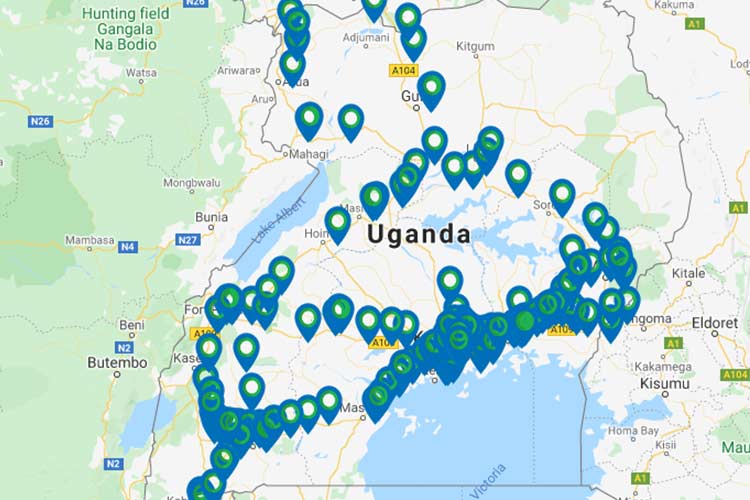 Apparently, Lyca Mobile Uganda covers many towns and district regions in Uganda. Being an MVNO (Mobile Virtual Network Operator), it uses existing masts and built networks from mobile operators like Airtel, MTN, UTL, Africell among others to beam its signal to customers. So, the telco has full coverage in city areas and district towns outside the central region.
Kampala Areas
Bugoloobi
Bukoto
Busega
Butabika
Bwaise
Ggaba
Kabalagala
Kaleerwe
Kampala Hill
Kamwookya
Kansanga
Kanyanya
Kasubi hill
Katanga Slum
Katwe
Kawaala
Kawempe
Kibuli
Kibuye, Uganda
Kigoowa
Kikaaya
Kisaasi
Kiwaatule
Kololo
Kulambiro
Kyebando
Lubaga
Lugogo, Kampala
Lungujja
Luzira
Makerere
Makerere Kikoni
Makindye
Mbuya
Mengo, Uganda
Mpererwe
Mulago
Munyonyo
Muyenga
Nakulabye
Nakasero
Nakawa
Namirembe Hill
Namungoona
Namuwongo
Nateete
Ndeeba
Nsambya
Ntinda
Port Bell
Bulindo
Kira Town
Namungongo
Ssonde
Seeta
Bweyogerere
Kirinnya
Wakiso Town
Gayaza Town
Buloba
Matugga
Kasangati
Wampeewo
Other Areas (Towns)
Mukono Town
Mbalala
Namataba
Mityana
Mubende
Kyegegwa
Fort Portal
Kagadi
Kasese
Kamwenge Town
Ishaka
Mbarara
Lyatonde
Ntungamo
Kabale
Bombo
Luweero Town
Lugazi
Mbiko
Njeru
Jinja Town
Bugembe
Masese
Magamaga
Bukoyo
Iganga
Busesa
Bugiri
Busia
Malaba
Mbale Town
Kumi Town
Soroti Town
Pallisa
Kumi
Hoima
Masindi
Karuma
Lira
Gulu
Pakwach
Nebbi
Arua
Koboko
Moyo