Konrad-Adenauer-Stiftung (KAS) Uganda and South Sudan have today announced the 6th edition of The Uganda Social Media conference focused on evaluating the impact of social media on society. With COVID19 as an active enabler attracting mass Social media traffic, many people have started relying on virtual communities as portals of communication.
The conference will bring together key stakeholders from government, civil society, academia, and the media for an exchange on the state and impact of social media in society. From 25th – 26th August 2021, the 2021 Uganda Social Media Conference will be hosted at Kampala Sheraton Hotel and will be virtually available to registered guests.
By trend, the outbreak of the COVID-19 pandemic in Uganda in March 2020 made Social Media applications namely Twitter, Facebook, and Instagram more popular than ever before. These platforms grew to become the major communication tools driving conversations about government policies, current affairs, activism, and most of all interpersonal communications. 
In January 2021, social media tools turned into the main mobilization and campaigning means for the much anticipated Presidential elections with most youth advocating for new governance in the next 5 years. Previously, crowds and physical campaigns were banned due to COVID19 spikes and Social media turned out to be the most effective tool to reach voters.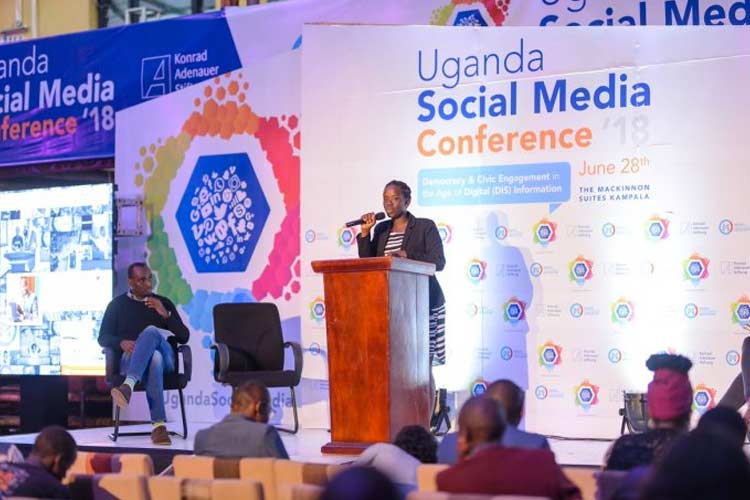 In reference to the growing influence of social media, the conference will provide a unique platform for theorizing, dialoguing, and engaging on how the growing relevance of social media shapes social, political interactions and changes the way we access information. 
"With this conference, we aim to bring together academics, policy-makers, industry professionals, and civil society activists to discuss the role of social media in Africa and globally, mobile technology, big data, and digital innovation,"

said Anna Reismann KAS Country Director for Uganda. 
"The conference aims to promote the exchange of ideas, networking, and collaboration on the topics of citizen engagement, political campaigning, misinformation, political polarization, populism, e-government, smart cities, and other emerging topics," she added. 
The 2021 Uganda Social Media Conference will run under the theme "Digital democracy in a Post Pandemic Era", highlighting how Social Media has facilitated citizen journalism, Elections in Africa, its impact on mental health among many other topics. 
Also, key among the topics that will be covered at the conference will be how to tackle the emerging digital threats including extremism, trafficking, Radicalization, and the crisis of state surveillance, digital privacy, and data protection. 
Additionally, Internet shutdowns by African governments will also be a topic to be covered with a major focus on the continued ban of Facebook since January 2021, Internet restrictions in Tanzania, and the current Twitter ban in Nigeria. With the Gig economy currently a major source of income for unemployed youths in urban centers, these bans have widened the unemployment gap making life hard for Netizens.
Since the conference will be hosted virtually, delegates will be required to sign up/register to attend online through assigned KAS Uganda registration portals. The event will also be broadcast live on KAS Uganda's social media channels and selected partner TV stations.