MTN Gaga popularly known as Gaga Wednesday is a mid week data promotion that packages the Yello camp's biggest offers in one affordable suite customized for all subscribers.
While MTN Uganda ended the Gaga Wednesday promotion earlier this year citing bigger promotions on its annual ladder. The revamped Gaga Wednesday promotion comes at a time when the competition is steadily ready to tame offers from the Yello camp after the spiky Dabolo campaign.
Revamped with a new module, MTN's Gaga Wednesday data now features a Me2U like algorithm where you can now load the package for another subscriber using your account.
From the Friday caliber, Airtel introduced freaky Fridays after learning about the Mid-Week competition between MTN and Africell, But still the orange camp didn't let its wings lose and introduced Don't be cheated Fridays.
As the first day in the competition jungle, MTN's gaga offer has been kickstarted with a 4GB offer at UGX 5,000 announced on the telco's digital platfroms. However, Africell hit the offer with a response of 2GB at UGX 2,500. So, the competition is a favorable dish for dual sim subscribers
How to load the new MTN Gaga Wednesday data offers, the codes you need
First things first, MTN Gaga is restricted to only MY MTN App users as the promo's Golden days had it. Interestingly the app is free to use and it comes with lightweight advantages meaning its a must-have App for MTN Subscribers.
To load an MTN Gaga offer on a Wednesday like this, all you have to do is to have your data turned on and buckle through your data tabs to tickle the Gaga offer through these procedures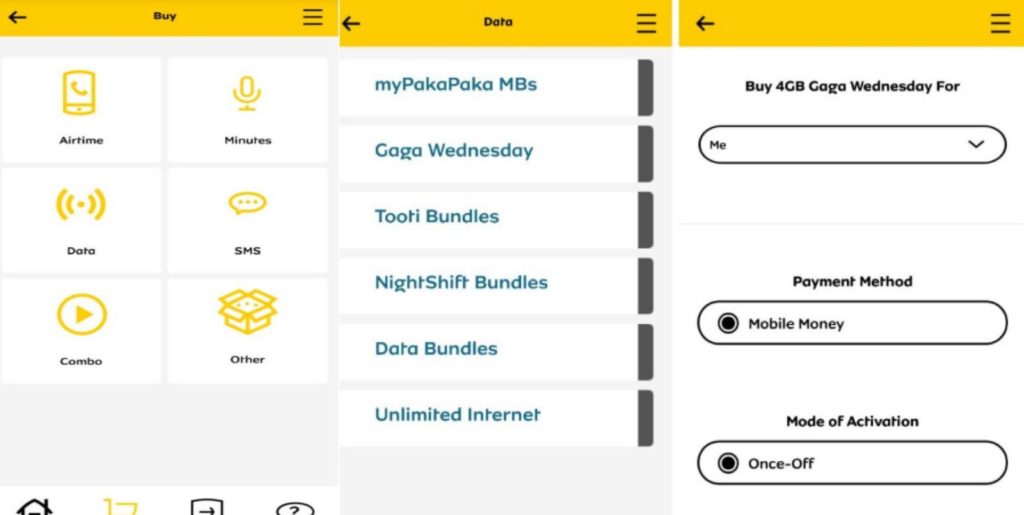 STEP 1: Download & Install the New MY MTN / MTN Momo App
STEP 2: Login to the MY MTN APP
STEP 3: Click Buy Data or the Data Icon on your account dashboard
STEP 4: On the listed offers, Choose Gaga Wednesday
STEP 5: Click the MTN Gaga Bundle and approve purchase via Mobile Money
STEP 6: Done Enjoy Your Gaga Wednesday data valid for 3 days