You can now send and receive MTN Mobile Money using the Ayoba App. The feature rises after MTN Uganda made the announcement official to enable Person to Person transactions through the App and serves as an easier way to send money without leaving your chat window.
Earlier this year, MTN Uganda in partnership with SIMFY Africa launched Ayoba as a new data-free (Zero-rated) App for customers to securely communicate using Smartphones in a fashion similar to that of popular Instant Messaging platforms like WhatsApp and Telegram.
The difference with the app is the fact that it's built by Africans to be used by Africans throughout its entire validity timeframe. So, with the new feature, Ayoba takes a step ahead of IM Platforms like WhatsApp as the first to Integrate an in-App sending feature.
While revealing the new in-App Mobile Money feature, Susan Kayemba – the Senior Manager MTN Digital services noted that the telco and SIMFY will continue modifying Ayoba to fully Integrate customer telecommunication needs.
"We are happy to inform our customers that they can now send money and receive money within the ayoba app while they chat. They can also listen to music or play games and soon iOS device users will be able to access the ayoba super app and become part of this revolutionary communication experience."

Susan Kayemba – Senior Manager Digital Services, MTN Uganda
Send and Receive MTN Mobile Money using the Ayoba App – Getting Started
To Send and Receive MTN Mobile Money using the Ayoba App, first, you need to make sure your Ayoba registered number is an MTN number (for the sender), If receiving, your network carrier doesn't matter since MTN allows sending money to all top telcos including Airtel, Africell, UTL.
Once your registered Ayoba App number is associated with an MTN Mobile Money account, you'll then be able to send money through the App, then the receiver will receive a notification of the sent amount, and here is how you can get started with sending money on Ayoba.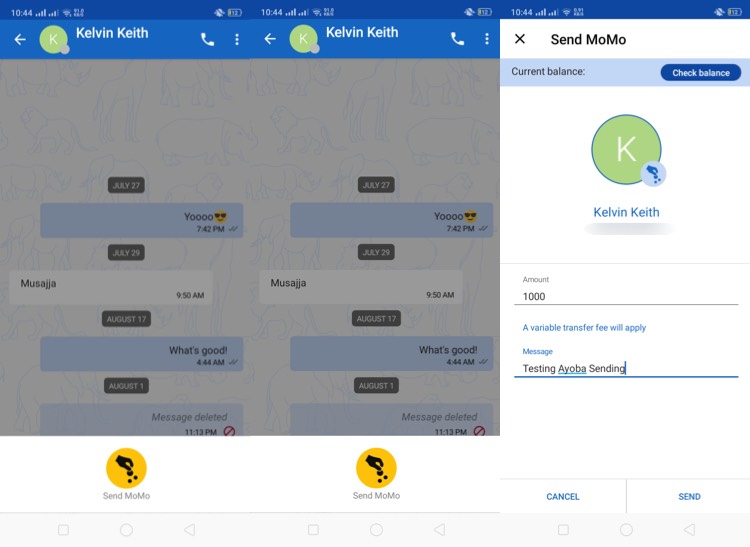 Download and Install the Ayoba App or update your existing version
Within the App, Select a Contact you wish to Send Money
From the Open Chat Window, tap the attachment 📎 symbol
On the list of tabbed displayed options, Locate money (last option)
Then Choose Send Momo
From the Displayed contact page, Enter Amount, and a Message for the receiver, then Tap Send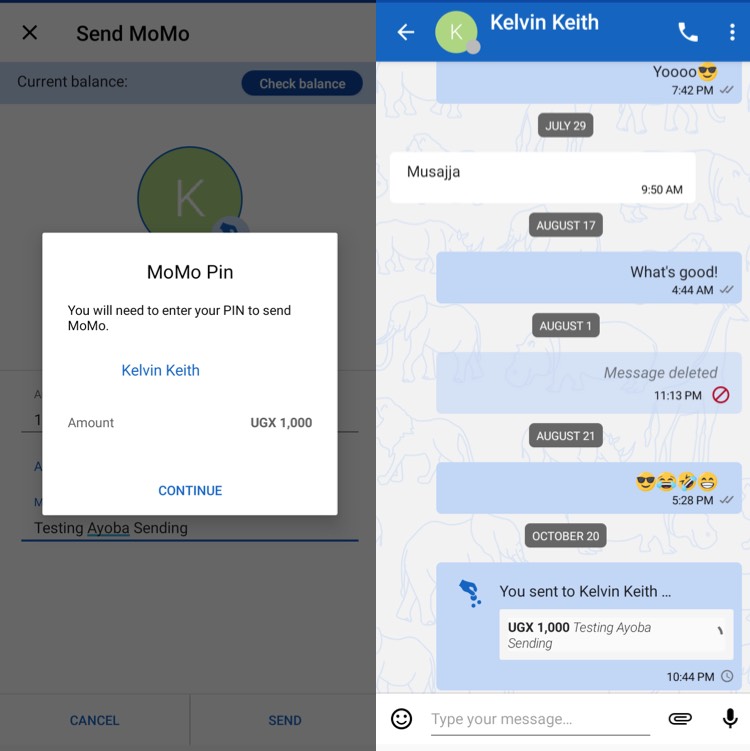 When a Confirmation Popup appears, tap continue to enter your Mobile Money PIN off-App
Enter Your MTN Mobile Money PIN when prompted from your registered SIMCard, or dial *185*8# and select approvals to enter your PIN.
Once Approved, Money will be sent to your contact (Receiver) with a notification of the amount and message in the Ayoba App
Done: The receiver will receive a Mobile Money message with the received amount and an Ayoba notification as confrimation of Money-In.
Just like that, you can continuously send money to your contacts, friends, and family through the Ayoba App without necessarily cramming their Phone Number for manual sending through the My MTN App or the *185# MTN Shortcode.
As an advantage, the new Ayoba Mobile Money sending feature helps you to send money to contacts and notify them within the App itself with a confirmation of the sent amount.
Just in case the receiver has a Mokash loan and the money is chopped in the process, your Ayoba notification marks as a confirmation of money sent to the receiver's number.
So, on top of the ability to send MTN Mobile money using the Ayoba App, the App allows you to send and receive instant messages, listen to music, play games, send Photos and Videos, communicate in local languages, among other features.
Currently, Ayoba is available on Android Smartphones only, but as per the confirmation from MTN Uganda, the App will soon be available to Apple IOS users on iPhones. But For now, the ability to send and receive money makes Ayoba a must-have App for not just secure communications, but also good business leads.