In the world of music streaming, brands like Spotify, Apple, Tidal, and Deezer are best known for being hosts of high-quality music that rewards artists without any direct payment from the listener. In the start, one needed to pay for a song by spending a dollar or two in order to support an artist's work, but now, with music streaming platforms, you get to listen to a song in the best quality possible and still support the creator indirectly.
Commonly Spotify Vs Apple Music are two comparisons you can't miss to sniff if you're looking for a music streaming platform to tune to. Lately, both platforms have made changes to their streaming charges and features due to the COVID19 Pandemic effects. But the great question stands Spotify Vs Apple Music, which is the best music streaming platform to consider?
First, the two platforms are both available for desktop, and mobile, however, Spotify takes its availability a notch higher by being active on consoles like the Xbox and Playstation. But on the other hand, whether you own an Android smartphone or an iPhone, you're able to access Apple Music and Spotify by simply downloading any of the applications from the Google Play or Apple store respectively.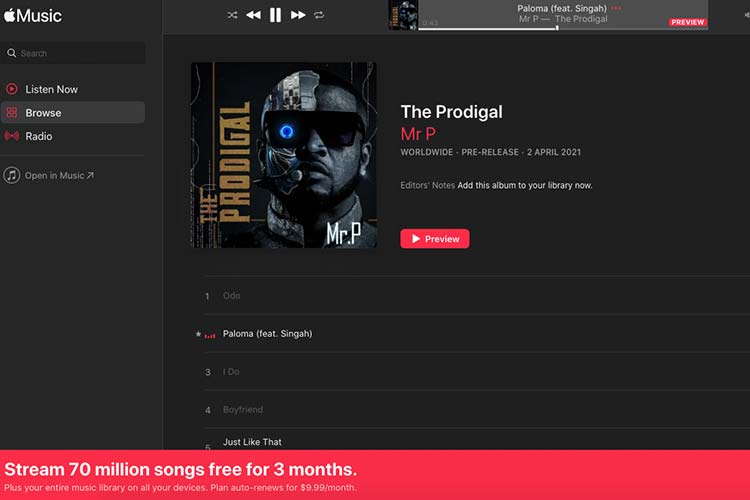 By features, both platforms offer high-quality music streaming with automatic modes based on your internet connection speed. Also, inbuilt AI functionality learns your most listened to songs and auto-creates albums you can always re-listen to, this makes these two music streaming platforms worth considering on top of their affordable streaming plans.
International Spotify Vs Apple Music Streaming Plans
| Streaming Plan | Spotify | Apple Music |
| --- | --- | --- |
| Free (with ADs) | $0.00 | N/A |
| Student | $4.99 | $4.99 |
| Individual | $9.99 | $9.99 |
| Duo | $12.99 | N/A |
| Family | $14.99 | $14.99 |
Spotify and Apple Music Streaming Plans
Spotify Vs Apple Music Streaming Plans in Africa
Unlike the International Spotify and Apple Music streaming plans, both platforms have different offers for African users. This is due to the fact that the cost of Internet bundles is high in most countries, and given the fact that music streaming is not very popular on the continent, both platforms decided to slash their base plans the African way, and here is what Spotify, Apple Music offer in select countries like Uganda, Kenya, Nigeria, Tanzania, Rwanda, Ghana, South Africa, Malawi, Zambia, and many others.
| Streaming Plan | Spotify | Apple Music |
| --- | --- | --- |
| Free (with ADs) | $0.00 | N/A |
| Student | $1.36 | $1.49 |
| Individual | $2.73 | $2.99 |
| Duo | $3.55 | N/A |
| Family | $4.37 | $4.99 |
Spotify and Apple Music Streaming Plans
Depending on the African country you reside in, Spotify and Apple Music streaming plans will be converted to your local currency payable with acceptable cards like VISA, Mastercard, Paypal, among others. However, when signing up for an account, you must choose your African country in order to get the slashed streaming plans, else, your account will be set to international plans by default.
Spotify Vs Apple Music (By cost, Music database, Modes): The best streaming platform you should choose
Both Spotify and Apple Music are great platforms straight after signup. However, they host different music databases, and streaming modes even with similar subscription modes. This draws a light margin on the best platform to stream music from but attracts a tone of high-quality music on your streaming device.
Based on our experience with the two platforms, we enjoyed Spotify Free at no cost, but as well tasted Apple Music's free 3month trial period, meaning a free experience with Ads Vs a free experience on an individual plan. On a strong note, Spotify ranks with a wide music database as opposed to Apple Music which has less but the latest tracks you may want to play.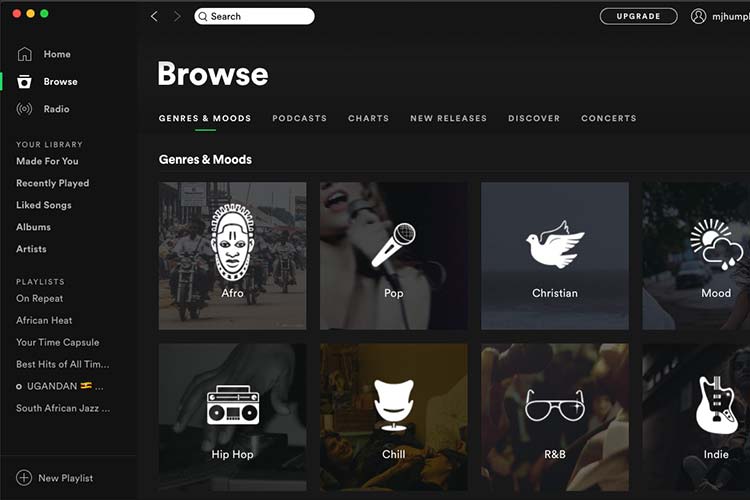 By streaming quality, both Spotify and Apple Music offer high-quality streaming for each and every track. However, the fact that you can't decide on a streaming mode (whether HiFi, High or Normal) on both platforms, makes it a little hard to tweak your listening experience and estimate your data consumption rate.
In a nutshell, Spotify is a clear winner against Apple Music due to the fact that on top of being able to cast music to other supported devices like the Sony Playstation, it also offers cheaper plans with a Free plan ranking as one you should give a try without swiping your credit card.
However, Apple Music can't be ruled as a great streaming service since a majority of artists premier their latest tracks on the platform, and with its streaming app available on all devices, you can choose to dual-install it with Spotify or any other streaming service like Tidal, Deezer, or YouTube Music.
Nonetheless, the age of downloading low-quality mp3 songs is so yesterday. With the new generation, you can listen to the music you love by simply subscribing to any of the available music streaming platforms.