The Uganda Communications Commission (UCC) earlier last week re-appeared back to the media watch list with a move to register all Social media bloggers with key interest on those making money off all OTT taxed platforms.
While becoming a perfect social media Influencer/ blogger in Uganda is as easy as owning a Smartphone or a computer. It will now become difficult to earn a penny from your content published online without a valid certification document from UCC.
According to UCC, It plans to register all Social media bloggers who earn a cent from the posts they publish. With a slight change in who must voluntarily register as a certified Influencer in Uganda, UCC's call sounds like one for all high-follower Ugandans on Twitter (UOT).
Who Must Register With UCC
According to the UCC spokesperson Ibrahim Bbosa, the commission is not interested in Individuals but rather entities earning from content published on their digital platforms. Whether through Ads or sponsored content, It's all part of the earning cycle.
Key portals include, Facebook, Twitter, Instagram and YouTube that act as breeding grounds for bloggers who earn money from advertisers and Influence off their individual channels.
People who have commercialized either have a deliberate strategy or effort purposely to reach large audiences, and in the UCC Act when you are broadcasting, you need to know what the rules of the game are

Ibrahim BBosa – UCC SpokesPerson
In summary, each and every Social Media Influencer or blogger sharing paid content or charging a Gig fee when invited to keynote events will have to battle with a UCC certification in order to legally operate on the Uganda digital space.
Since the Ugandan influencer market is all about networking and instead of actual Influence. This means every tweep with a high follower count willing to earn money from content shared on his/her page will have to certify with UCC as a node in the mentioned rules of the game.
Why UCC Wants all Influencers registered
By mounting a regulation on entities making money from Influencing their online audiences, the UCC regulation implies that whoever posts any form of sponsored content online must adhere to the rules of digital engagements pace set by the communication body.
In return, UCC aims at regulating each and every Influencer/Blogger on the kind of Information they can share and what they must avoid together with implications that check-in once a violation is detected by the commission.
It's through the same fashion that all media stations in Uganda including free to air channels, paid TV channels and radio stations are regulated. However, UCC has not listed any penalties for Influencers and bloggers who wish to dodge the new certification rule, but instead a touch consequence for the black hat league.
Bloggers like " Ands Jeff @andsjeff (Twitter), Tom Voltaire Okwalinga (Facebook) " and many more anonymous users will be unmasked with the advancements in technology as UCC's Ibrahim Bbosa further lamented in his remarks.
But, as per the new policy, only masked users generating income from their following will be held accountable leaving a big question as to whether UCC aims at regulating Information shared on the OTT taxed platforms or simply interested in spicing up the URA banquet.
The future of UCC's Certification on Influencers/bloggers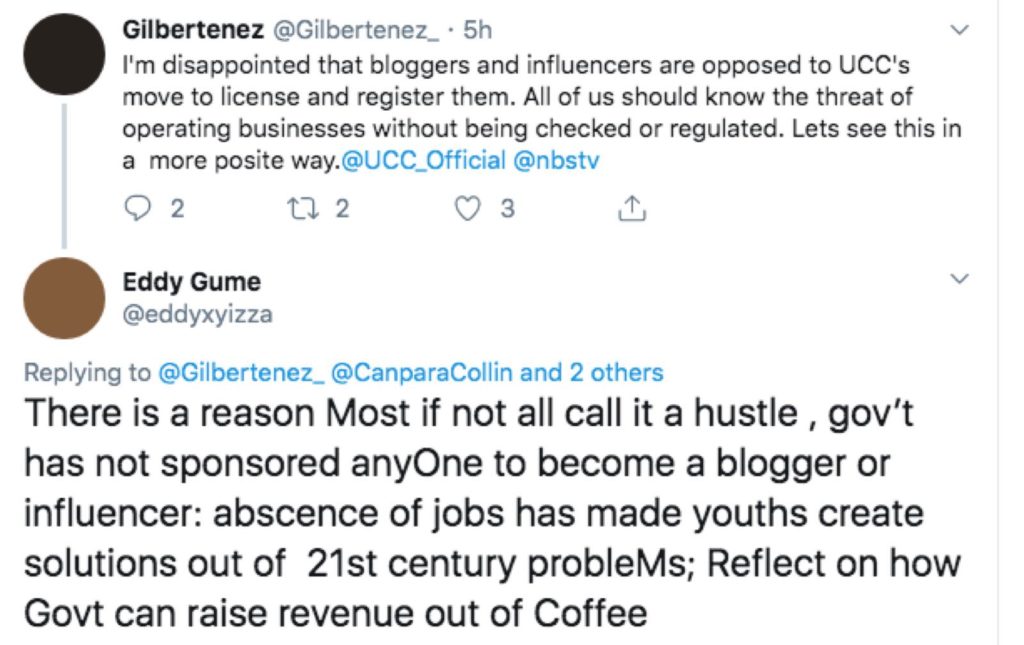 The new UCC policy steps in as a spicer to last year's certification call for all online publishing blogs to have clear documentation on their existence and data shared across their channels.
But this time around, the notes have slightly changed with key focus on the regulation of bloggers and Influencers sharing information for Income generation on all major digital platforms.
Henceforth, its a tight one for money-generating users who from Today Tuesday 13th August 2019 must be in the UCC records with a voluntary call-out and not a compulsory policy as per the commission's communication lines.
With the new UCC policy currently in play and already attracting both negative & positive feedback off Twitter and Facebook, What's your take on the new rule? Share with us your thoughts in the comments section or participate in our poll below.
[totalpoll id="7966″]