Free MTN Data is available in Uganda, Yes, the Yello telco offers free data to customers, but with a catch. Popularly, MTN rewards customers with free voice minutes and often cash with its Momo Nyabo Campaign. For free data, offers are not as popular as the former, but occasionally accessible by almost every Yello subscriber.
Being the biggest mobile operator in Uganda, MTN offers free data based on usage statistics or new customer dynamics. By usage, the telco influences you with a call to action like 'Buy airtime with MTN Momo and get free 50MBs'.
By new customer dynamics, most MTN Phones like the MTN Kamunye, TECNO Camon 15, and many more, come with free data up for grabs redeemable via a simple shortcode. Hence, you must be an active customer to get the telco's free data.
Download and Share the MY MTN App
One of the best ways to get free MTN Data is to ride on the free My MTN App. Commonly, if it is your first time to use the App, you get free 500MBs for Signing up, and for each recommendation (share) you make, you receive free 200MBs as your recipient also gets 500MBs.
How to Get Free Data on the MYMTN App
Download the MYMTN App from the Google or Apple Store
Signup/Login with your MTN Number
Once registered, you will be given free 500MBs
For more data, Click Recommend this App
Share the App Link to your contacts
For each recipient that Installs the App, you get free 200MBs worth of MTN Data
Download the MTN Pulse App to get free MTN Data
MTN Pulse is a rewarding tariff plan that was unveiled as the telco's major offering for youthful subscribers. Now with the MTN Pulse App, each and every user is guaranteed to in-app freebies available once you hit the Install button from your Smartphone store.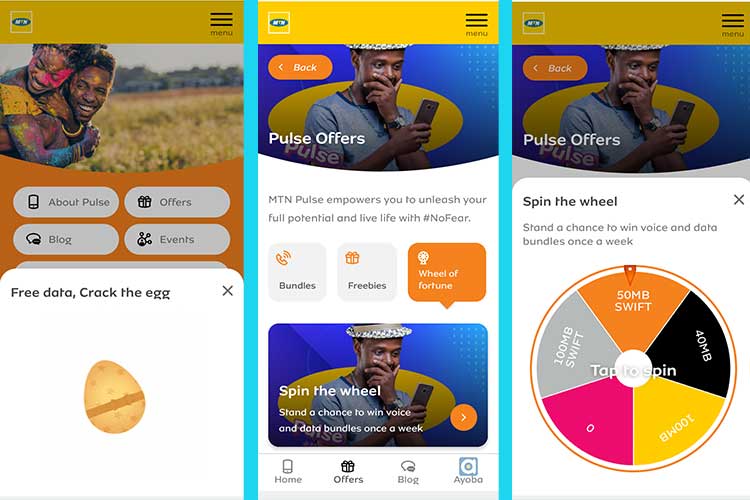 In fact, when we entered an MTN Pulse registered number to the App, a surprise egg graced our installation with 500MB of free data valid for 7 days. On top of this, the main dashboard has a Spin the Wheel menu from which you can always get free data each time you spin once a week.
Even More Data with MTN Mobile Money
Apparently, Mobile Money usage is on an all-time high in Uganda since the 2009/2010 inaugural era. Mobile Money has not only been key for both money transfer, but also operates as a mobile bank with services like MTN Mokash.
AS the biggest provider, MTN periodically rewards customers with free data for using its Mobile Money service. To get a toast of this offer, reading the telco's random SMS messages sent to your phone often reveals available offers you can redeem: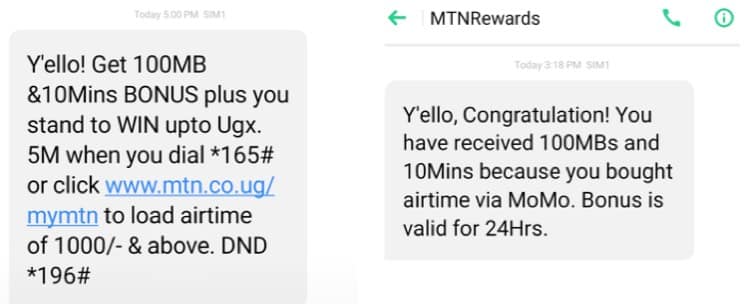 Sample Message: Buy Airtime with MTN Mobile Money today and get free bonus airtime + free 50MBs
Reedem MTN Senkyu for MBS
MTN 1-4-1 now MTN Senkyu is a common loyalty program that works on a points system. Points are accumulated by often making calls, and making sure your account is active on a daily.
For Each day that your SIMCard stays active on MTN's network buzzers, you get 1 Point free. For Every call you make whether to an MTN number or another network, you get 1 Point for every UGX 100 spent.
Once you accumulate enough points, you can then redeem them for data or voice minutes as you may wish. To redeem your points for data, simply dial *141# and choose option 1 (Use Points) where you get to choose Data from the droplist to exchange your points for free MBs.

Spending MTN Points for Free MBs
Dial *141#
Select Option 1 (Use)
Select Data
Then, choose whether to convert all your points or simply use a portion
If you selected Option 2 (Use a portion), then the points will be converted to MBs
Done: Your Free Data will be credited to your Account
Download the MTN Momo App
You can now get free 500MBs when you download the MTN Momo App from the Google Play store. However, there is a catch, you must be a new user of the app. If you have installed the App and registered your MTN number before, you will not receive the free data. So, make sure, its your first time using the Application.
In Summary, the same way you can get free data on Airtel, Africell, Lyca Mobile or any other telco of your choice in Uganda, it's through the same fashion that you can redeem some free data on your MTN Account.