No MOMO Charges, new data bundles: Inside MTN's Plan on Corona Virus
The MTN Uganda CEO Mr. Wim Vanhelleputte
MTN Uganda has today announced its fight against Corona Virus via an e-press conference to prove the need to stay home during the 32 quarantine period flagged off by the Government of Uganda.
During the press conference, MTN's CEO Mr. Wim Vanhelluputte inked the telco's goal to make it easy for subscribers to work from home, and send money at almost no cost.
It's to this that the telco has waived Mobile Money sending fees for transactions clocking above UGX 30,000 as transactions with amounts below this mark will ride on normal sending fees.
The New Mobile Money sending Fees
| | |
| --- | --- |
| Transaction Tier | Sending Fee |
| 500-2,500 | 100 |
| 2,501-5,000 | 300 |
| 5,001-15,000 | 900 |
| 15,001-30,000 | 1000 |
| 30,000 – 7,000,000 | FREE |
The slashed MTN Mobile Money sending rates for MTN-MTN Transactions
With Corona Virus Information mainly sourced off social media, and various tracking websites, MTN Uganda 's new Work from Home bundles are curated to give customers a feel of a normal day at work by browsing the Internet for less, the same way they would with office Internet.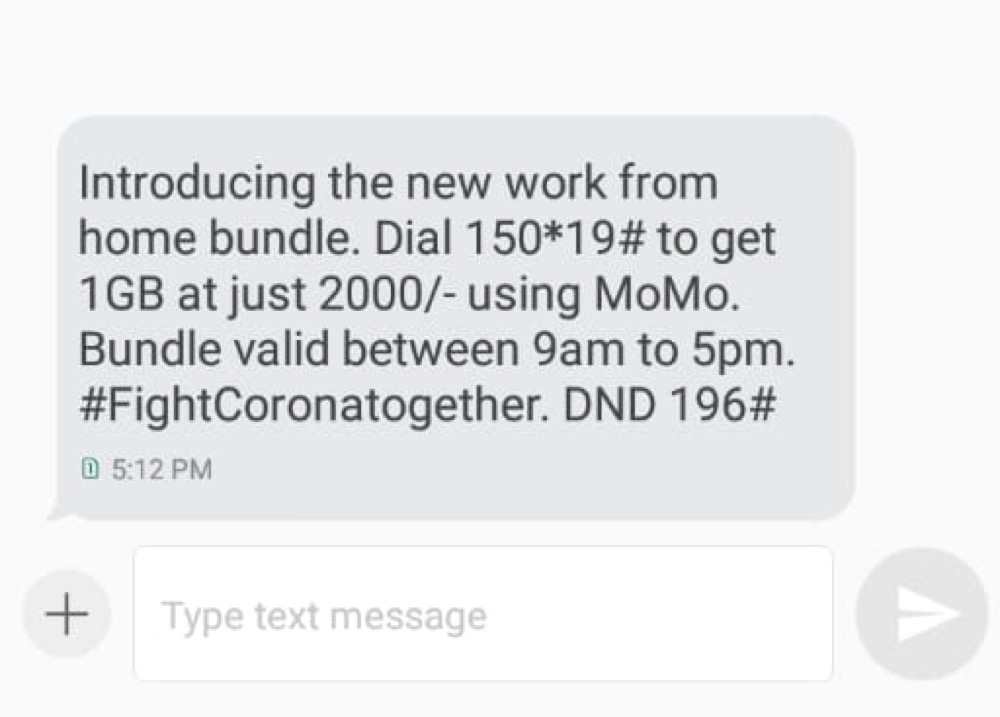 The Work from Home Bundle currently holds 1GB at 2,000/= active during normal business hours from 9 am – 5 pm. This means users are able to execute normal day tasks, and get first-hand information off the Internet.
On the other hand, MTN pledged over UGX 500 million to the Government of Uganda as its initial support towards fighting the spread of COVID 19 in the country.
This means, the telco has not only made it easy for subscribers to browse the Internet for less as compared to normal data rates, but also digested preventive measures to trim the impact of Corona Virus in Uganda.
What MTN's Corona Virus Plan means for the Telecoms Landscape
MTN Uganda is ranked as the most used network in Uganda with a majority of mobile subscribers relying on its mobile money, voice and data services for daily usage. This means, the telco takes a lead in breaking trends and setting the pace for its competitors
The competitive scene can be evidenced from the telco's Gaga Wednesday offer which turned into a norm for every mobile Internet provider with Africell and Airtel rocking Fridays with bulk offers.
So, with MTN's new Work from Home bundles unveiled earlier today and a slash of sending fees. We expect a close competitor like Airtel to reply with a similar offer for its customers, a move that will turn the quarantine period into a paved data offers timeframe.