How to take a Screenshot on Mac OS Catalina 10.15
A Mac OS Catalina Screen Capture window
Mac OS Catalina 10.15 is the latest Apple OS X Operating system succeeding Mac OS 10.14 Mojave. The operating system not only ships a dark mode derived from its predecessor, but also packs a pile of upgrades including a redefined Screenshot module
Unlike earlier Mac OS releases, Version 10.15 Catalina has a floater for screenshots that allows you to carry out post revisions per capture. To cut the long story features sheet short, here is how you can capture a Screenshot on your computer running Catalina
Using the default Mac OS Catalina Screenshot keys
Press: Command + Shift + 5
Then, Choose Screenshot area by dragging corners
Click Capture to take Screenshot
Done: Your Screenshot will be saved
Once you press Command + Shift + 5 to access the screenshot capture window, a small floater will appear on your bottom right screen that allows you to send the capture to a separate directory, copy to the clipboard or Open in preview.
Where your Mac OS Catalina Screenshots are saved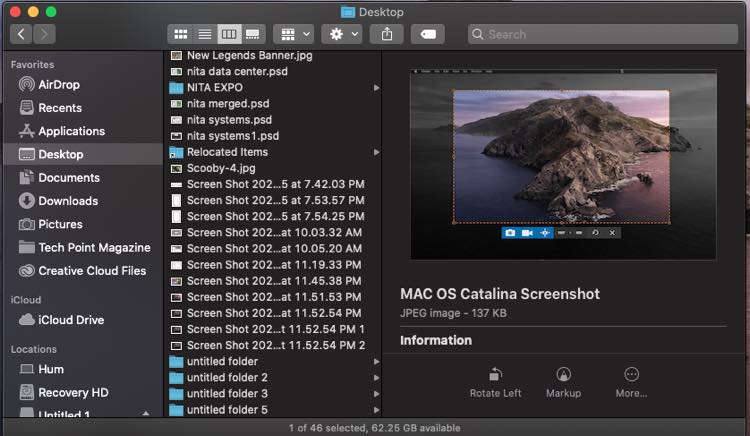 By default, your screenshot will be saved to the desktop. However, you can choose a different storage folder by accessing the options tab on the screenshot capture window ( Cmd + Shift + 5 )
If you find trouble accessing the OS X Catalina screenshot shortcut, you can install 3rd party apps like Snagit from the Apple store to help you capture screenshots on your Macbook or iMac Apple computer.